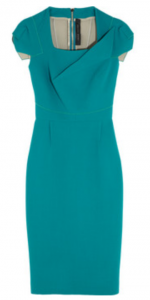 The next sighting of teal is, again, a surprise. It occurs after the seeing of the fairy tale playing on an early Sunday morning Starz TV channel -- that I unexpectedly tune into after trying to fix my cable and which I discover as a tale seems strangely relevant to this decision. I then see the second teal during today's long cardio run at the Hudson near Pier 84. It is a dramatic, loud teal t-shirt on a boy with a heightened look. Again, I pay attention.​
I continue thinking about the decision because my senses are heightened. Impulsively, as if silently talking to myself, I say -- if I see teal right now, I will do it. Instantly, maybe two seconds pass, and I see a third boy with a bright teal shirt.​
I am considering a yes to this decision but in a new way that I had not previously thought about.
The reader is invited to write in about decisions or potential decisions that come together from interesting synchronicities that do or don't have anything logical to do with the subject of the decision but somehow become instrumental, impactful, or influential in the newer stage of the evaluation process.
​
Teal as potential synchronicity​