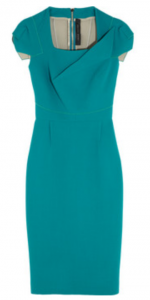 The next sighting of teal is, again, a surprise. It occurs after the seeing of the fairy tale playing on an early Sunday morning Starz TV channel -- that I unexpectedly tune into after trying to fix my cable and which I discover as a tale seems strangely relevant to this decision. I then see the second teal during today's long cardio run at the Hudson near Pier 84. It is a dramatic, loud teal t-shirt on a boy with a heightened look. Again, I pay attention.​
I continue thinking about the decision because my senses are heightened. Impulsively, as if silently talking to myself, I say -- if I see teal right now, I will do it. Instantly, maybe two seconds pass, and I see a third boy with a bright teal shirt.​
I am considering a yes to this decision but in a new way that I had not previously thought about.
The reader is invited to write in about decisions or potential decisions that come together from interesting synchronicities that do or don't have anything logical to do with the subject of the decision but somehow become instrumental, impactful, or influential in the newer stage of the evaluation process.
​
Teal as potential synchronicity​


I am in the process of making a professional-academic decision, whose resolution has been going on for nine months. Although I am a strong believer in the left-brained style of thinking through evaluation and analysis --Jungians call this Logos -- I have used Logos extensively but it has not resulted in any firm decision.
Now, I may have reached a portal through the impasse (although the final decision is still forthcoming). I am gleaning a sense of what I should or can do -- or might consider doing -- from three synchronicities involving a deep insight that comes out during an hour-long energy treatment followed, this morning, by a fairy tale expressed within an Italian children's film and, oddly, the color teal seen repeatedly at key moments in the past two days.
At another point, I may discuss the fairy tale and its archetypal implications. In this post, I will look at teal.
The first sighting of teal is yesterday -- an elegant suitdress on 10th Avenue in Hells Kitchen -- on a woman who looks like a supermodel. I am surprised because such clothing is rarely seen on 10th Avenue in Hells Kitchen, and teal is relatively new to me as a noticeable color. I simply pay attention to her fashionable beauty and dramatic teal suitdress...note it.